Creston's Best Gift Baskets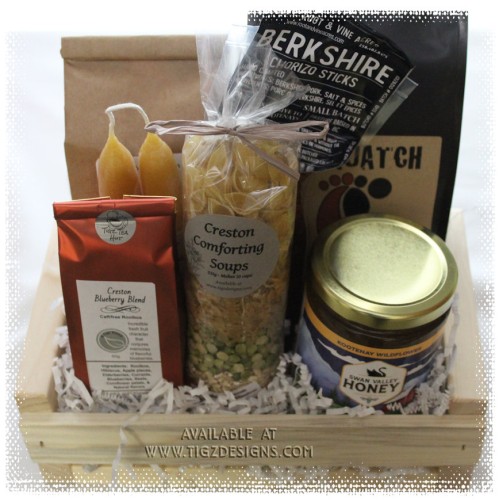 Creston's Best gift baskets are filled with the best local products we can find. We love to promote our beautiful valley and to showcase the talent and goodness that is right here in Creston.
Some of our local suppliers include: Sasquatch Coffee - SISS (Soft Interiors Sewn by Su) Kitchen Linens, Kickin Joe's Spices and Kickin Cinnamon Apple Nuggets - Tigz Tea Hut Experience / Creston Blended Teas - Tigz Designs Encaustic & Pet Greeting Cards - Honey Bee Zen Beeswax Candles - Local Watercolor Artist, Laura Leeder - Swan Valley Honey ~ Creston Comforting Soup Mixes, Gudjonson Farms Garlic Powder, PURE Honey, Root & Vine Acres Chorizo & Beer Sausage, Local Wines
Let us know what you would like in a Creston's Best basket and we will give you a quote.
---
Showing 1 to 13 of 13 (1 Pages)
Featured
Latest