Tigz News
In light of the rapidly changing COVID-19 developments and increase in COVID-19 cases we are going back to curbside and in-town delivery starting Wednesday, April 7th until further notice. It is important to us to do all we can to keep our customers and community safe.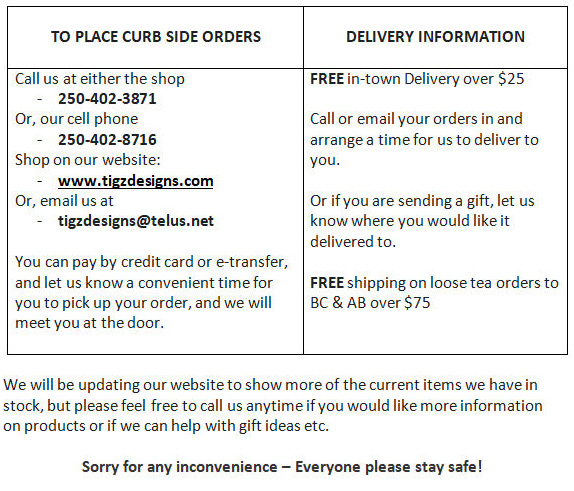 If you are unable to do this we are happy to offer curb-side service as well as free in town delivery. We care about all our customers safety, as well as our own and are doing our best to do all we can to make your shopping experience as safe and comfortable as possible.
---
Check our Facebook Pages for WEEKLY SPECIALS: facebook.com/TigzTeaHutExperience or facebook.com/tigzdesigns
---
You can find many delicious and wonderful Locally Made & BC Products in our shop.
---
We have a wide selection of TAKEYA products

---
Visit Us @ 1013 Canyon St. Downtown Creston, BC or Call 250-402-3871 or 250-402-8716
---
---
Showing 1 to 1 of 1 (1 Pages)
Featured
Latest